Have you ever seen the fabulous slopes of Balaton Highland? I assure you, it's worth a look. This region of Hungary has the tradition and history of centuries in wine-making. Starving for excellency and for saving the harmony of their life with this landscape a few of winery-owner families decided to accept the strict rules of organic farming. Their decision might be a fortune for our business, because we – a newcomer entity within the endless line of grape seed processing companies – intend to distinguish ourselves and earn our stripes by the source and quality of raw material we use.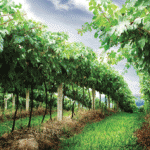 Our policy has got its rewards when we could start up cooperation with these families. By now, we are lucky enough to offer you capsulated, red-grape seed dietary supplements, made from carefully selected, "bio" graded sweet red grapes of Balaton Highland. There is also a way to segregate seeds from fermented marc, which is formed as a by-product in red-wine manufacturing process. Both are gifts of nature. However, we believe, that the quality of sweet seeds from red grape is second to none, so on a limited number of our bottles you may find a statement on the label to distinguish the one from the other, and also the name of the family whom the seed comes from.
Grape seed is a dietary source of essential fatty acids, E-vitamin (i.e. tocopherols) and a lot of other important polyphenolic antioxidants. We have made a quick survey on the web in order to enlist the benefits attributed to the ingredients of the seed. At first, we identified 43 diagnoses accompanied with the recommendation of grape seed (or grape seed extract) consumption. Too good to be true, you may say. No doubt, the control of the common sense is indispensable when it comes to the critical analysis of hidden or explicit promises delivered by web traffickers. But, here is an exiting piece of a recent news:
"Recent epidemiological and experimental evidence suggests that moderate consumption of red wine may reduce the incidence of AD and attenuate AD-type cognitive deterioration and amyloid neuropathology. … Moreover, studies suggest that grape-derived polyphenolic compounds may inhibit oligomerization of Aß. … Such inhibition would be highly significant, because accumulation of soluble extracellular high-molecular-weight (HMW) oligomeric Aß species in the brain currently is considered a major risk factor for the onset and progression of cognitive deterioration in AD … Thus, pharmacological strategies for the
prevention of Aß oligomerization in the brain might result in improved cognitive function in AD."
(Grape-Derived Polyphenolics Prevent Aß Oligomerization and Attenuate Cognitive Deterioration in a Mouse Model of Alzheimer's Disease; The Journal of Neuroscience, 18 June 2008, 28(25): 6388-6392)
Please note: the source of this news is not the web page of a health care product peddler.
Cautions
In general, grape seed products, manufacturing sites are rarely evaluated and controlled by government authorities. Certain products might be contaminated by toxic materials, drugs, or just may contain preservative additives. Reduce your risk by purchasing only from reliable sources. (Please be aware: our product has got the obligatory notification from the National Institute for Food and Nutrition Science, and the official analytical results with the composition and concentrations of the main components are disclosed on the label. No additives are applied.)
It is advisable to consult your health care adviser (family doctor) before starting a grape seed course. Stop taking grape seed and seek urgent medical attention if you experience symptoms of allergic reactions (e.g. breathing/swallowing difficulties; swelling of tongue/lips/other tissues; hives).
Grape seed may not be recommended in some situations:
do not take grape seed without first talking to your doctor if you are pregnant or planning a pregnancy or breast-feeding a baby
when exposed to anti-coagulant medication
keep grape seed products out of reach of children.
If you have further questions about our product or are interested in purchasing, please feel free to contact us:
info@euvitis.hu
. Within 24 business hours, we will reply.
Best regards from
Euvitis-Floriana Ltd.